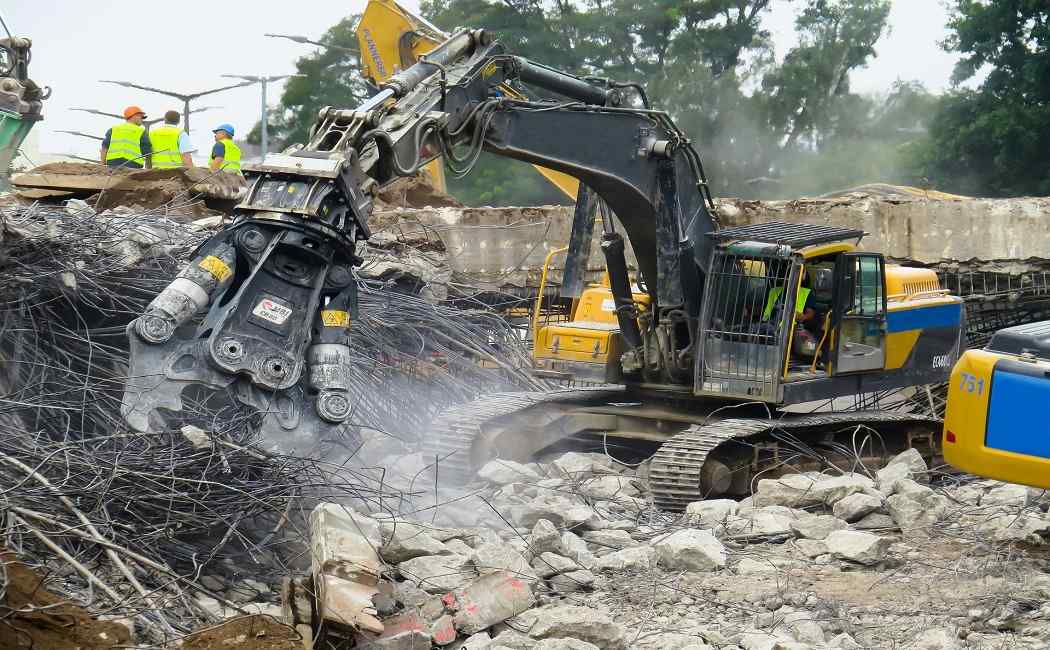 What is a Roll On Skip?
Also known as RORO skips, a roll-on roll-off skip is the next step up from a traditional skip. Roll-on roll-off skips are bigger than normal skips and can hold a larger amount of waste, making them ideal for commercial and industrial use. Typically, these skips are used for large-scale construction sites, demolitions and big refurbishments.
If you're new to the world of skip hire and you're trying to work out whether a roll-on roll-off skip is right for your needs, you've come to the right place. In this guide, we take a look at the different sizes available, the benefits of hiring a roll-on roll-off skip and what to consider before you do so.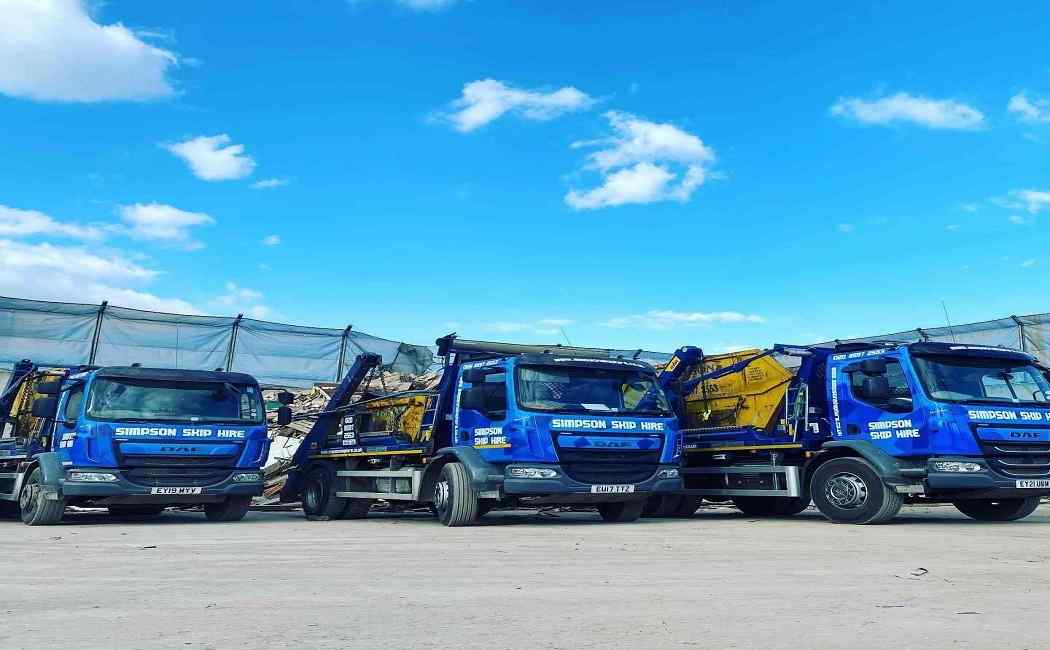 ROLL-ON ROLL-OFF SKIP HIRE SIZES
Roll-on roll-off skips are available in a range of different sizes, with capacities ranging from 20 yards to 40 yards.
A 20-yard roll-on roll-off skip will typically accommodate around 220 black bin bags of waste, whereas a 40-yard roll-on roll-off skip can accommodate around 440 standard black bin bags of waste. 20-yard skips can be used to remove bricks, concrete, rubble and most general construction waste generated on typical construction sites. 40-yard skips are ideal for large volume commercial waste management, as well as large construction and demolition projects.
WHEN DO I NEED A ROLL-ON ROLL-OFF SKIP?
As briefly mentioned above, roll-on roll-off skips are ideal for projects that produce a large amount of waste. Roll-on roll-off skips are typically reserved for commercial and industrial projects, simply because of their size and capacity. It makes much more sense to invest in a huge skip for your project instead of opting for multiple deliveries and exchanges of a builder's skip – something that is both costly and time-consuming.
Typically, roll-on roll-off skips are used to dispose of hardcore waste. This includes rubble, brick, masonry and steel beams, along with a mixture of house clearance materials such as furniture, kitchen fittings, glass and more. You can also dispose of groundworks waste, including crushed concrete, rock chalk, ballast, building sand, gravel and more.
Unlike domestic skips, roll-on roll-off skips are transported on the back of large flatbed trucks and are used to dispose of high volumes of construction, manufacturing or demolition waste. You can easily start and complete a large construction project in no time at all with the help of a single roll-on roll-off skip. With specially designed doors to enable customers to load the container quickly and conveniently, a roll-on roll-off skip can improve the efficiency of your project.
Projects that typically require roll-on roll-off skips include:
Shop fittings
Industrial clear outs
Refurbishments
Construction projects
Demolitions
BENEFITS OF ROLL-ON ROLL-OFF SKIPS
Roll-on roll-off skip hire offers many benefits:
The main benefit of hiring this type of skip is the size. When you hire a roll-on roll-off skip for your project, you can dispose of large volumes of waste quickly and efficiently.
These skips can take large amounts of waste in one go, providing you with a convenient and hassle-free way of disposing of large amounts of construction waste at once.
Roll-on roll-off skip hire can help you complete your project quickly and easily. Due to the amount of waste a roll-on roll-off skip can hold, you can quickly fill it up with all of your waste and have it collected right away.
With a roll-on roll-off skip you can dispose of waste as soon as you generate it, ensuring your construction site stays clean and tidy.
This reduces the risk of accidents and injuries taking place on your site and will help to improve productivity.
Using a roll-on roll-off skip can help to reduce the carbon footprint of your commercial project as multiple waste collections will result in a greater volume of fuel emissions.
WHAT TO CONSIDER BEFORE HIRING A ROLL-ON ROLL-OFF SKIP
There are a few things you should consider before you hire a roll-on roll-off skip. Before you hire one, make sure you make the following considerations:
Do I Have Enough Space?
The main consideration you'll need to make is whether or not you have enough space on site. You'll need to have enough space to take delivery of the skip, house the skip for the full hire period and transport waste to the skip during the project. If you're short on space, work out whether or not you can clear the required space in time. You'll need to arrange and plan the layout of your construction site to incorporate your roll-on roll-off skip.
What Size Do I Need?
You'll also need to work out what size skip you need for your needs. Will a 20-yard skip be enough, or do you need a 40-yard one? If you're not sure what size to go for, it's always best to get in touch with your skip supplier to find out what they recommend. You can tell your skip supplier about your project and your specific requirements and they should be able to help you estimate how much waste you'll need to dispose of.
Is this a cost-efficient option?
If you are completing a large construction project, a roll-on roll-off skip is generally the most cost-effective skip option to go for. If you have a large amount of waste that needs to be removed from a demolition site, a roll-on roll-off skip is the most efficient way to do this. In addition, you can save on your waste management costs.
The price of hiring a skip depends on a number of different factors. Both the size of the skip and how long you intend to keep it will determine the cost of hiring a roll-on roll-off skip. Generally, a larger skip that you require for a lengthened amount of time will cost more than a small skip required for a short interval.
In addition, you may want to ask yourself the following questions before hiring a skip:
What is my budget?
How long will I need the skip for?
What style of skip will I need?
What will I be putting in the skip?
Are there any other ways of disposing of goods?
Am I getting the best deal?
SIMPSON SKIP HIRE LTD: SKIP HIRE IN DAGENHAM
If you're looking for skip hire specialists in Essex and East London, look no further than Simpson Skip Hire Ltd. Our skilled and experienced team have a wealth of experience in the industry; many members of our team have been in the skip hire business throughout Essex and East London since the 1970s.
We take pride in providing a responsible and eco-friendly service. Our waste management service ensures that at least 90% of your waste will be recycled. Our team of specialists can help you find the right skip for your purposes and will be more than happy to discuss your specific requirements. We're proud to offer a range of waste skip sizes for every job, whether you require a domestic standard skip size to fit on a front drive or a 12-yard bin for renovation waste materials.
Find out more about our wide range of skip sizes, get expert advice on the right skip for your needs or ask our skilled team anything else you'd like to know by giving us a call today. For more information about our skip hire services, click here.
Share This Story, Choose Your Platform!