CHINGFORD SKIP BAG DELIVERY & COLLECTIONS
Looking for Chingford skip bags? At Simpson Skip Hire Ltd, we also offer a fast and flexible skip bag service covering Chingford & most of Essex & East London. Our skip bags ( Skippo Bags) are an outstanding solution for enabling you to hold both large and light waste items with the peace of mind of a set price. Unlike some other national skip bag companies, a Skippo bag provides great value for money.
We offer a second bag at a reduced price of £60 or you can book two bags for £150. On the condition that they must be delivered and collected at the same time. This is because unlike a skip container there is NO two-week hire limit, once you have paid for your skip bag it's yours for 6 months.
So you can continue to start those DIY projects with the best of intentions and not face a huge bill when you finally get around to finishing them! With A Skippo Bag it's simple You fill the Skip Bag at your leisure, and we'll collect the Skip Bag. Job Done! Get in touch with us today to find out more about our Skippo Bag Hire & collection service.
WHY USE SKIP BAGS?
Skip bags Chingford, are a very flexible solution for lighter waste when you need containment for your rubbish. Maybe you just want the peace of mind of a fixed price (as long as you don't overfill the bag!). Our skip bags are delivered within two working days.
They can be a great alternative to a skip for lighter waste. and have the added bonus of keeping fees low for those projects that tend to drag on and on. However, we still recommend skip-hire for heavier waste such as bricks, rubble, and soil.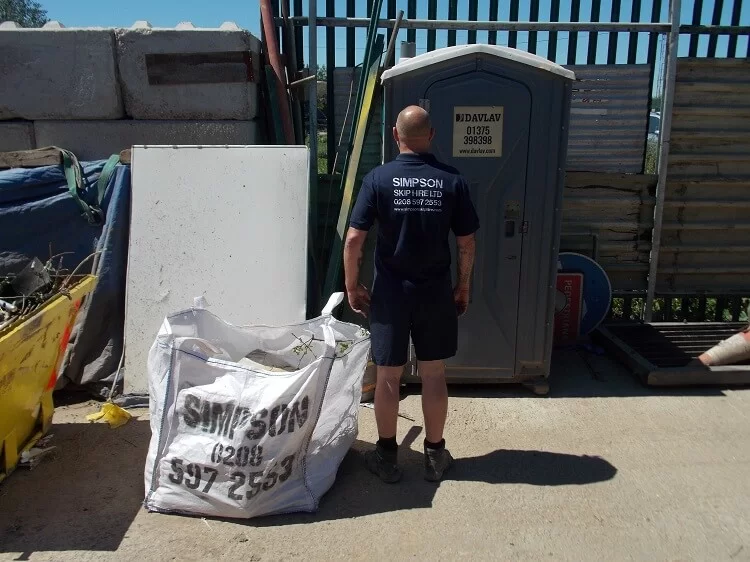 If you have any questions before you book, please feel free to contact our Chingford-based skip bag experts or check out our page of frequently asked questions. Our Skippo Bag hire & collection services cover East London and a distance into Essex, including Romford, Ilford, Dagenham, Barking and Rainham.
WHAT CAN GO IN A SKIP BAG?
In general terms, you can pretty much put the very same items into a Skippo Bag that you would typically expect to be able to place inside a general skip.
As you would expect Hazardous waste items are not permitted, So in short, things like old carpest and flooring, household rubbish, furniture, garden waste, and general bulky waste are all good.
Cardboard – Construction or Demolition Waste – Household Waste- Magazines and Brochures – Mixed Metals – Timber – Wood and Wood Products – Mixed Recyclables.
WHAT SIZE ARE SKIP BAGS?
Skip bags Chingford areas are the newest extension to our variety of skip hire services to make decluttering more straightforward than ever. This handy bag opens into a 1.5 cubic yard skip bag. A Skippo bag is perfect for small gardens & household clearances, or D.I.Y projects and decluttering tasks.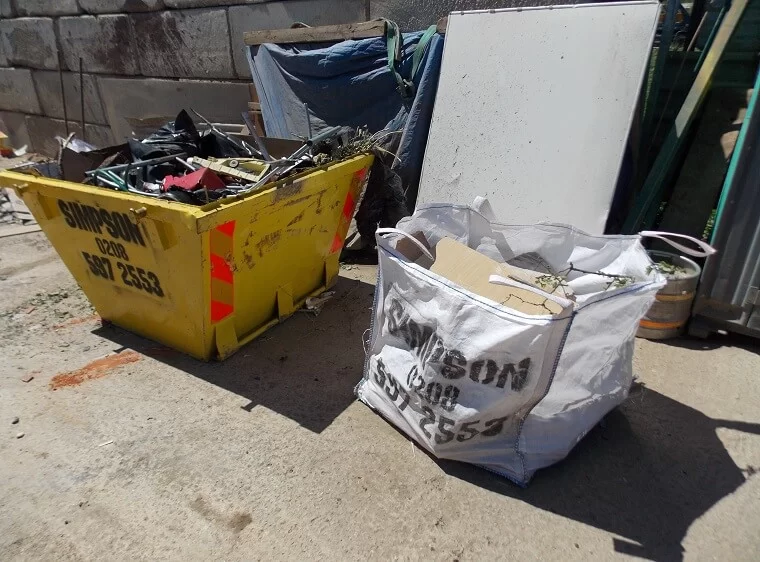 DO YOU NEED A PERMIT FOR A SKIP BAG IN ILFORD?
We would recommend that you only consider the use of a skip bag on private property. Suppose you intend to put your skippo bag on a public highway (including pavements) or road. In that case, you will need to apply for a material licence or permit from your local council. It is also key that you understand that if you do place the skip bag on the road you are responsible for this act.
Simpson Skip Hire Ltd accept no responsibility should any kind of incident occur due to your actions. You do not need a skip permit if you intend to store your Skippo Bag solely on private property. Keep it simple and safe for the public!
IS THERE ANYTHING YOU CAN'T PLACE IN A SKIP BAG?
The skip bag should not be utilized to dispose of hazardous or specialist wastes. For example, asbestos, fridges, freezers, batteries, electrical goods, gas bottles, liquids, chemicals, sprung mattresses, and clinical or food waste.
HOW OUR ESSEX SKIP BAG SERVICE WORKS
For a swift, adaptable solution for lighter waste, try our Chingford, Essex and East London skip bag service. If you need a container for your rubbish or just need a fixed price, our skip bags can be a great alternative option to skips. You fill it – we'll collect it.
HOW TO ORDER YOUR SKIP BAG
Ordering a skip bag is easy as pie. You can book online via our store, or just give us a call and we will take your payment via card over the phone and arrange your order. We will deliver your skip bag within two working days. Your skip bag order is valid for 6 months, so take your time in using it. Don't overlook that you can take your bag with you for use somewhere else within our service areas. Just let us know the current collection address.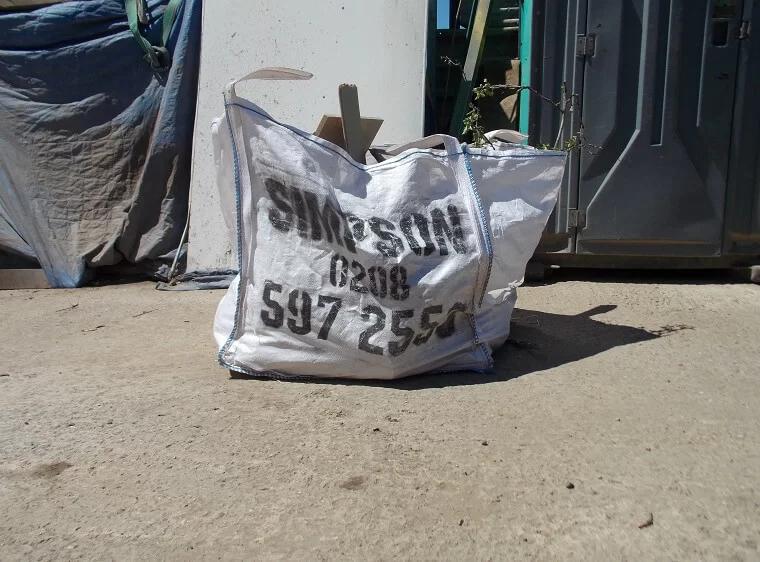 WHERE TO PLACE YOUR SKIP BAG.
Your skip bag must be situated within sight of the road and ordinarily within 10 meters. Remember not to leave it on the actual road and that you are responsible if you choose to ignore this point. There must be equitable access for a vehicle. When our collection team arrive they will hoist the skip bag onto one of our trucks as part of the service, we can work around obstacles as long as it is safe to do so.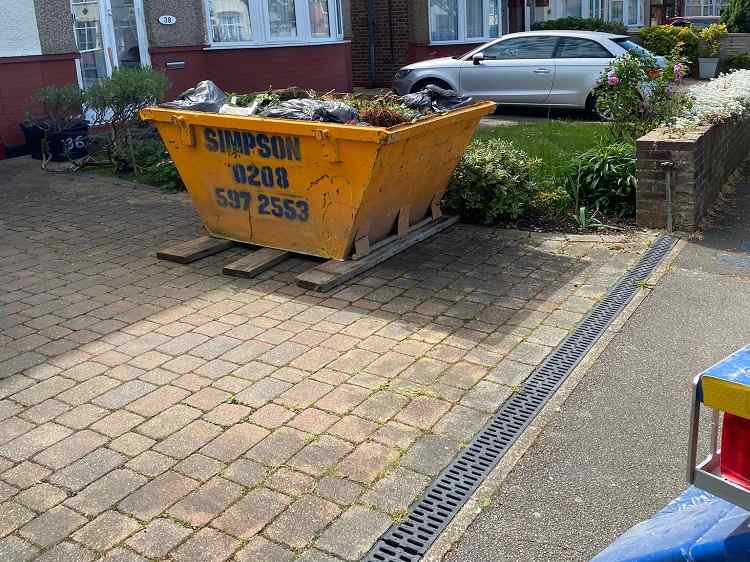 GET A FREE SKIP BAG QUOTE
Learn more about our skip bags Chingford, get expert advice on the right product for your needs or ask our skilled team anything else you'd like to know, by calling us today. We'll be happy to provide a free quote on your job.
HOW TO BOOK YOUR ESSEX SKIP BAG COLLECTION
Once you're done loading your skip bag, you can schedule a collection with us by telephone. We provide named-day collections, typically within 3 working days. The bag must be accessible all day on the day of collection.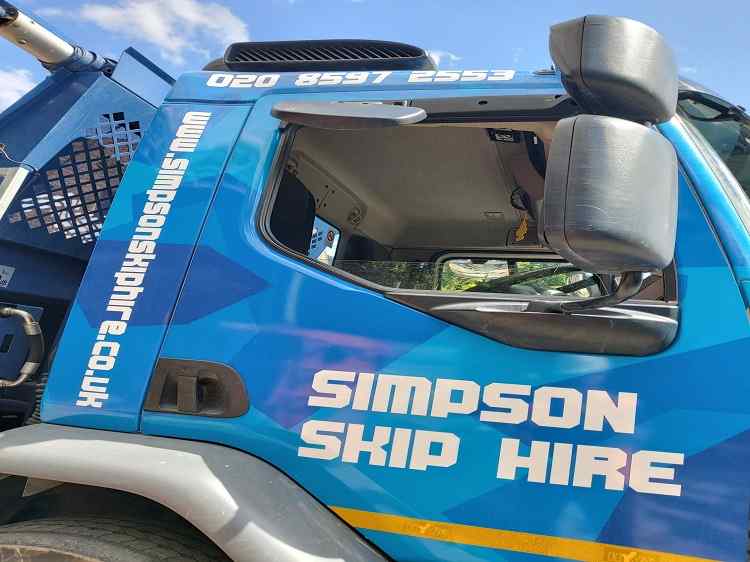 HOW WE RECYCLE YOUR WASTE
At Simpson Skip Hire Ltd, All of the rubbish we handle is transported to a local commercial recycling plant. On average, over 95% of the waste collected is redirected from landfills. We also give you a digital Waste Transfer Note emailed to you with your work completion receipt. We save a copy of these documents for you, should you need to ask for a copy in the future
Book your skip bag quickly and securely from our Online Store, and avoid paying broker fees. Whether it's domestic or commercial use, your Chingford location isn't a barrier.
So if you like to support local businesses and want fantastic service fused with a simple, secure and fast online booking platform, it just has to be Simpson Skip Hire Ltd.

OUR ESSEX SKIP BAG SERVICE AREA
We cover the following postcodes:
East London: E1, E2, E3, E4, E5, E6, E7, E8, E9, E10, E11, E12, E13, E14, E15, E16, E17, E18, E20.
Essex: IG1, IG2, IG3, IG4, IG5, IG6, IG7, IG8, IG9, IG10, IG11 RM1, RM2, RM3, RM4, RM5, RM6, RM7, RM8, RM9, RM10, RM11, RM12, RM13, RM14, RM15, RM16, RM17, RM18, RM19, RM20, CM4, CM5, CM13, CM14, CM15, CM16.
Finding The Right Skip Solution
Skip or skip bag? We Can Help You Find The Ideal Skip Solution For Your Purposes. It's Always A Good Idea To Call Our Skip Hire Specialists To Discuss Your Requirements And Get Expert Advice, But First, Here Are A Few Things To Think About When Choosing A Skip.

OUR ESSEX SKIP BAG SERVICE AREA
We Cover The Following Postcodes:
East London: E1, E2, E3, E4, E5, E6, E7, E8, E9, E10, E11, E12, E13, E14, E15, E16, E17, E18, E20.
Essex: IG1, IG2, IG3, IG4, IG5, IG6, IG7, IG8, IG9, IG10, IG11 RM1, RM2, RM3, RM4, RM5, RM6, RM7, RM8, RM9, RM10, RM11, RM12, RM13, RM14, RM15, RM16, RM17, RM18, RM19, RM20, CM4, CM5, CM13, CM14, CM15, CM16.
Finding The Right Skip Solution
Skip or skip bag? We can help you find the ideal skip solution for your purposes. It's always a good idea to call our skip hire specialists to discuss your requirements and get expert advice, but first, here are a few things to think about when choosing a skip.